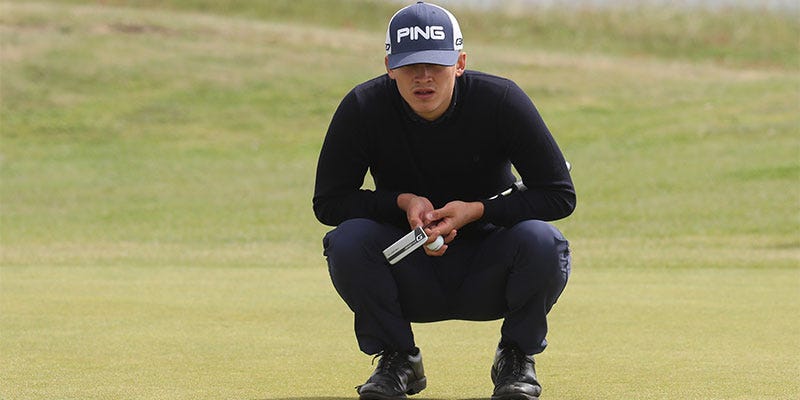 Jordan Wrisdale carded a superb seven under par first round (65) to hold a confident two shot lead over Robert Laino, Miles Collins, and Steve Uzzell tied for second place at the HotelPlanner.com PGA EuroPro Tour's Motocaddy Masters at Wychwood Park Golf Club.
Wrisdale (Boston) started on the back nine, picking up three birdies and just one bogey, before flying to the top spot on the front nine where he collected five more birdies in an impressive first round.
The 21-year old has had a strong season, taking three top 10 finishes this season already, and is looking to emulate a similar finish this week.
He said: "I hit a lot of really good iron shots today and I also holed some putts well too; I managed to grab a chip in today which always helps."
It's the first time the Lincolnshire golfer has played at Wychwood and said: "It's a lovely course with a really good set up. I'm hoping I can take today's performance and carry it through into tomorrow."
Laino (Woburn Golf Club), Collins (Stoke by Nayland Golf Club), and Uzzell (Hornsea Golf Club) carded impressive five under par (67) rounds and will be looking to continue their fine form into the second round.
Collins said: "I holed some great putts today which was the main thing, and it will be nice to try and hit the same score tomorrow."
The 14th hole, a 438-yard par 4, proved challenging for a host of players; 26 of whom scored a double bogey or worse in the first round.
The Motocaddy Masters continues with the second round on Thursday (August 10), after which a cut to the leading 50 professionals and ties will be made. The final round takes place on Friday (August 11).
Spectator entry is free of charge throughout the week and live scoring is available at Motocaddy Masters Leaderboard. Highlights from the Motocaddy Masters at Wychwood Park Golf Club will air on Sky Sports Golf on Tuesday, August 22.
Motocaddy has been selected as the 'Official Electric Trolley' of the PGA EuroPro Tour for the twelfth consecutive year. The PGA EuroPro Tour is the leading developmental tour in Europe with the top five players from the Order of Merit receiving exemptions onto the 2018 European Challenge Tour.